Sale!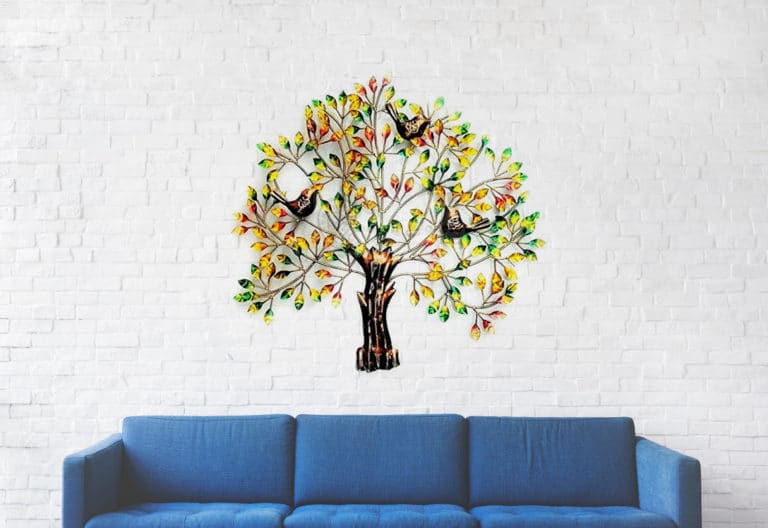 MohanJodero Multicolor 3 Bird Tree Wall Decor Metal Art
inc. GST
Let your contemporary style home decor find a worthy addition with this wall decor metal art tree from mohanjodero exuberating vibrant colours.  Having an enticing design and classic work of craftsmanship, this metal tree is made of iron and is excellent home decor. Wall art will add elegance to the perfect place with its class and is just perfect to station at home and also gift someone special. A combination makes the handcrafted metal art of contemporary and traditional methods. This modern wall decor is constructed from metal, which makes it sturdy and durable.
In stock
Description
Handcrafted Tree is being made by a combination of contemporary and traditional methods

Metal construction promises long-lasting Use

This Wall Decor metal Art is handcrafted using a mix of age-old artisanship and contemporary styling

Weight:-2000 g, Dimensions:- Height (72 cm). Width(76 cm)
Additional information
Weight
1.5 g
Dimensions
72 × 5 × 76 cm
Returns, refunds & Cancellations

Despite our very best efforts quality and packaging standards, if you still find anything amiss, we follow a friendly return policy. We refund for products which are damaged or do not match with photo/description as given on our website. Please bear in mind that these are handcrafted products made by individual artisans which can cause slight variations. The resolution on your screen can impact the color/shade dimension too. Variations only authenticate that the products are not machine made.

Incase you are still not satisfied, please get back to us through phone/email within 3 days of the receipt of the product. You will have to send an image of the product on email in case you are claiming that the product is damaged or not meeting description. Remember to mention your order number.

Once you ship the product back to us (should be in its saleable condition with the tags intact & in its original packing) the full amount will be refunded within 15 days or a replacement arranged as per your advice. The courier charges will be borne by us.

Cancellation Policy

For some reason if you do not wish to proceed with your order, inform us immediately. In case the order has not gone under production or been dispatched, we will cancel your order and refund the entire amount. The amount will be refunded in your bank account within 15 days. No cancellations will be entertained for dispatched orders.